Urdu poetry has long been celebrated for its rich and expressive language, captivating readers with its depth of emotions and profound meanings. Among the various genres of Urdu poetry, aesthetic poetry in Urdu holds a special place. It is a form of artistic expression that focuses on the beauty and elegance of language, evoking a sense of aesthetic pleasure in the reader.
Aesthetic poetry in Urdu is like a special kind of poetry that is really fancy and beautiful. It's special because it uses words in a clever way to paint pictures in your mind, make you feel strong emotions, and talk about complicated things in life. The poets who write this kind of poetry are like artists, using words to make everything sound just right and flow smoothly.
Beautiful Collection of Aesthetic Poetry in Urdu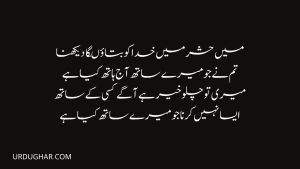 میں حشرمیں خداکوبتاؤںگا دیکھنا     
تم نےجومیرے ساتھ آج ہاتھ کیا ہے
میری توچلوخیر ہے آگے کسی کےساتھ
ایسا نہیں کرنا جومیرے ساتھ کیا ہے
MEIN HASHAR MEIN KHUDA KO BTAYUNGA DEKHNA
TUM NE JO MERE SATH AAJ HATH KIYA HAI
MERI TO CHLO KHAIR HAI AGEY KISI KE SATH
AISA NAHI KRNA JO MERE SAATH KIYA HAI
This form of poetry often explores themes such as love, nature, spirituality, and the fleeting nature of life. Each verse is meticulously constructed to convey a deeper meaning or evoke a particular mood. Whether it is through metaphors, similes, or rhythmic patterns, aesthetic poetry in Urdu transports readers into a world filled with beauty and introspection.
If you really like aesthetic poetry in Urdu and want to understand it better, learning about the beautiful poems in Urdu can be a fun and interesting adventure. It's like going on a journey where words go beyond their regular meanings and help people express deep feelings and thoughts.